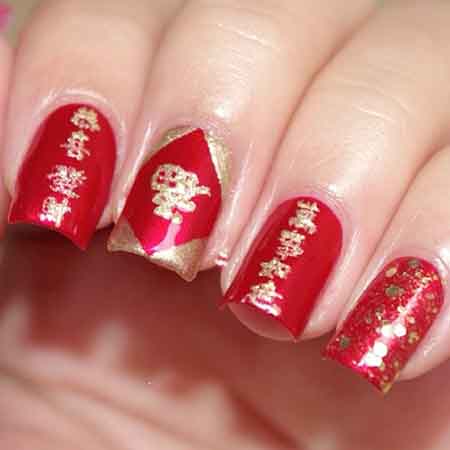 The holidays are more and more looming and after thinking about the gifts, it's time to start the party look: hair, makeup and of course nails! In this article we have collected some ideas and some photos for your New Year's Nails.
Let's start to consider what are two color palettes used during the holidays and let's start to imagine how they could match our New Year's themed nailart:
Palette 1: gold, yellow and red, which looks very joyous.
Palette 2: white, silver and blue, which makes for a very snowy landscape.
If you are a woman for whom nail art has to be "zero bangs", then red nails with accent nails with gold glitter is the ideal solution. Even a very ordinary French with a small red lantern decoration can suddenly become super New Year. In this case, the stickers are very useful. Speaking of stickers, those that reflect the patterns of snowman are a must at New Year!
Finally, not to mention the ombre effect, created with glitter in order to create a very delicate snow effect. A proposal that gives its best especially with beautiful nails perhaps shaped according to the "coffin" shape. As for the finishes, it is true that glitter and glossy seem to be made especially for party nails, and give the mat and glossy combination a chance.
If you have a steady hand and the nail beauty supplies, no one can stop you from creating even more elaborate designs. Hoping to have been helpful. As usual, I wish see you in the next article!
Read also:Manicure, the beauty routine for nails