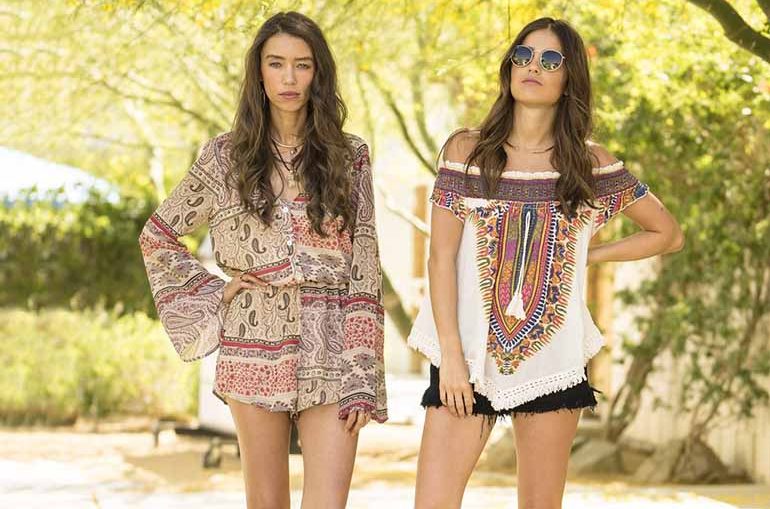 Festival season has become the time of year to let out your inner flower child. And just like other annual events that have unofficial dress codes (think: glitter makeup for New Year's Eve or wearing red on Valentine's Day), the presh to put your best boho foot forward can get a little overwhelming and, well, tired. While there's nothing wrong with indulging in the now-traditional breezy frocks and face paint, just know that that's not the only option for dressing to impress on the concert grounds. So to help you think beyond fringe and feathers, we've come up with five non-boho looks guaranteed to stand out among the seas of flower crowns. Find your new head-to-toe festival uniform below.
1. THE CLASS PRESIDENT
Now that you get to choose your own school colors, how could you not rally behind baby blue and gold (especially when the gold element is a pleated skort)? Work the preppy vibe from head to toe with a striped cute tank tops, cutout loafers and boarding school accessories like a satchel bag and pearls.
Mango Striped Ribbed Top ($50);
J.Crew Metallic Linen Crossover Short ($75);
Jeffrey Campbell Taft Cutout Oxford ($165);
ASOS Clean Satchel Bag ($40) + Topshop Pearl Open Bracelet ($12)
2. THE GIRLY GIRL
It's all about flirty frills for you, babe. From the ruffles that so sweetly line the back of your sundress to the flowers that bloom on your sheer tights, there's no mistaking that you're a girl who likes her lipstick pink and selfies with a flirty wink.
Zara Dress With Back Frill ($40);
Jonathan Aston Instinctive Stripe and Floral Tights ($27);
ASOS Elana T Bar Cut Out Chunky Ankle Boots ($68);
Flynn Grayson Crossbody Bag ($175) + Padgett Hoke Glass Oval Drop Earrings ($34)
3. THE TOMBOY WITH FLARE
It doesn't matter what you're in for; you keep cozy wherever you go. Toss-on-and-go pieces like overalls and backpacks practically make up your DNA, along with wear-everywhere footwear like artisan-constructed clogs. Oh, and why would you ever fuss with a necklace when you can just tie on a bandana?
Topshop Slouchy Dungarees ($105);
Madewell Marina Crop Tank ($55);
Swedish Hasbeens Black Fredrica High Heeled Sandals ($262);
John Lewis Collection Weekend Leather Lilian Mini Backpack ($88) + Urban Outfitters Urban Renewal Vintage Well Worn Bandana ($6)
4. THE COLOR-LOVING MINIMALIST
You keep your lines clean and your colors bold, and that's why a neon yellow shirt style womens dresses and a cobalt bucket bag are your wardrobe's best PICs. You barely accessorize, but when you do with a ring duo and geometric studs, they're stunningly forward.
COS Tie-Waist Jersey Dress ($99)
Creatures of Comfort Bucket Bag in Blue ($575)
ASOS Laboratory Pointed Mule Ballets ($36)
The Things We Keep Gertrud Studs ($90) + & Other Stories Double Link Ring ($22)
5. THE JOCK JAM
People call you Sporty Spice because of your obsession with tanks and leather gym shorts, and you're totally okay with that. Embrace the retro sportswear trend with varsity striped jelly sandals and a pop-of-color ball cap, but keep it feeling of-the-moment with a patterned canvas bag.
Topshop Unique Paneled Sporty Tank Top ($125);
H&M Imitation Leather Shorts ($30);
Charles & Keith Grooved Out Sole Sandals ($63);
Adidas Farm Airliner Mexkumerex Shoulder Bag ($55) + American Needle Washed Canvas Baseball Hat ($24)
Tell us about how you're dressing for festival season. Share your outfit plans with us in the comments below!