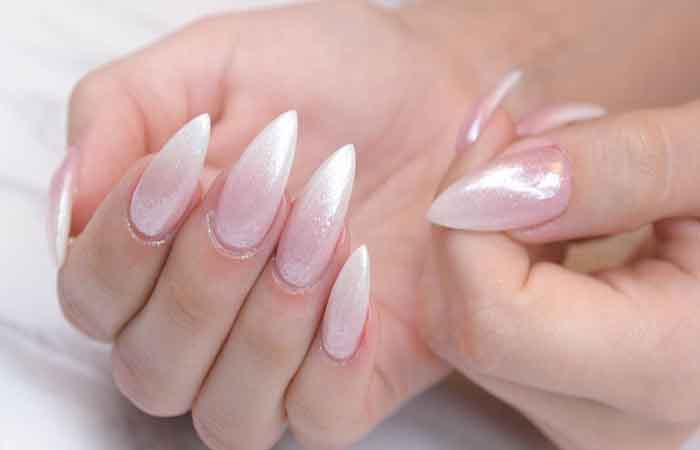 Already very popular in the United States, the Baby Boomer arrives in France and is about to dethrone our cult French Manicure. Resolutely modern, this nail art technique is perfect for those who want an original, discreet and refined manicure.
What is the Baby Boomer?
The baby boomer is a technique similar to that of French manicure, which allows you to create a sober and refined nail art on the nail. We keep the base in light pink or nude varnish, but the white line is blurred to create a "gradient effect" and a natural fade on the nail. For a slightly more original look, it is possible to use more colorful tones.
How to make a Baby Boomer?
There are also different techniques to do this manicure depending on the type of nail.
On natural nails using a semi-permanent varnish:
After pushing back the cuticles and filing the nails to give them the desired shape, it is necessary to apply two coats of nude or light pink varnish on all the nails;
Then degreases the nails and deposits a small quantity of "white gel paint" on a piece of aluminum foil taken up using a small sponge pad;
Tap the front end of each nail going up to half of it to create a melted effect;
Then, it is necessary to stop this time at a quarter of the nail, and finish with a layer of transparent "top coat".
On false nails:
You have to file the extension to give it the desired shape;
Apply a transparent base in order to protect the nails then comes the application of a first layer of nude varnish going from the lunula to the beginning of the free edge;
Then a layer of white varnish is applied to the free edge of the nail;
To achieve the gradient, must take a small nail-art sponge and tap on the demarcation line between the two varnishes in order to blur it;
The service ends with the application of a top coat for a better quality rendering and a longer hold of the achievement.
We hope you liked this article and that it will inspire you for future. In addition to these, I advise you to invest in a complete manicure set! To help you in your choice, I invite you to visit our website.
Read also: Nail prosthetist: all about nail filling