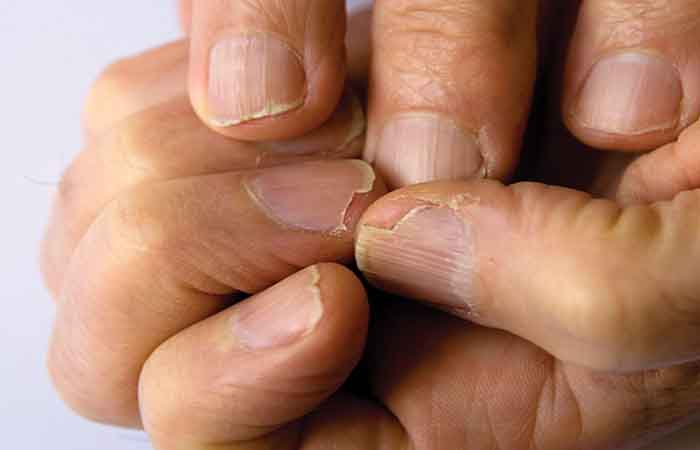 The hands are an element of seduction, it should be maintained regularly with the help of the manicure products. If we are not careful, the nails can become fragile and brittle. When they split, are soft, break or turn yellow, how can they be treated to strengthen them? Follow us!
There can be several reasons why nails break. If you don't consume enough vitamins A and B, iron, calcium, protein or zinc, there is a good chance that the nails will become fragile and yellow. A lack of calcium generally produces decalcification. Using chemicals without protection can also be harmful to the health of the keratin that makes up the nails. Cold, heat, stress and fatigue are also sources of weakening of the nails.
Gestures and care for the nails
To have healthy nails, you have to take the time to pamper them. The first step to perform is a massage: every evening before sleeping, with a nourishing hand cream, massage the nails with small circular movements to strengthen them.
Between each manicure with colored varnishes, it is good to leave the nails natural so that they breathe and take the sun. Filing them regularly and pushing back the cuticles with a cotton swab soaked in sweet almond oil are also necessary gestures for the good health of brittle nails.
Some natural recipes
There are also many natural recipes to take care of your nails. Oils are particularly rich in vitamins and minerals that help strengthen nails. It is therefore possible to massage yourself or soak your fingers for several minutes in castor, olive oil. You can add a few drops of lemon: this will do a lot of good for ridged and brittle nails.
Warm salt water or baking soda is also a fortifying bath for nail keratin. Other mixtures are very beneficial for nail health, including lemon and sugar, apple cider vinegar and lukewarm water, egg white and sweet almond or even honey and germ oil. wheat.
The oils nourish the nails, strengthen their keratin and stimulate their growth. Therefore, to ensure that you benefit from all their virtues, it is advisable to choose them that are 100% pure, natural and organic.
With the help of these tips listed above, Believe that you will make your nails stronger than ever. This article was created from the famous brand of Maryton. Visit our website to discover more nail products!
Read also:How to have perfect nails?