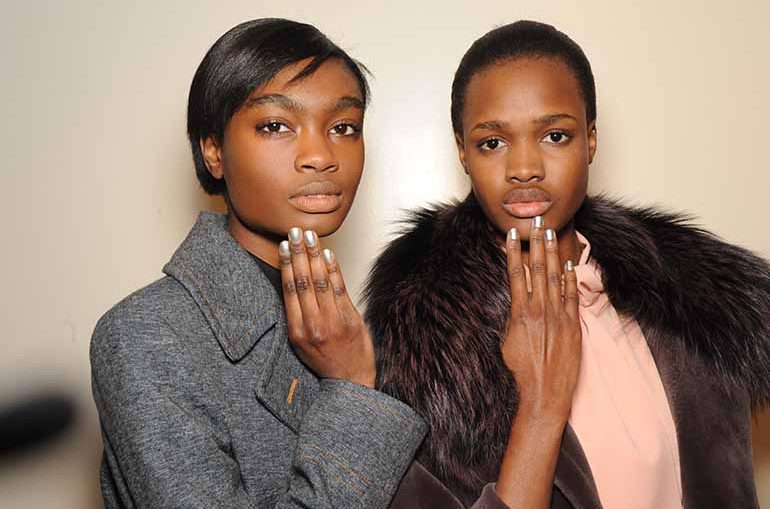 There are a lot of things worth waiting for, but, if you ask me, nail polish isn't one of them. I hate waiting for my nails to dry. And I have little patience for layering sheer or streaky formulas, which take longer to dry. So today, I'm rounding up seven nail polishes that get the job done in one opaque swipe. To give you an exact picture of the one-coat coverage, I'm not wearing base coat or top coat in the below photos.
1. Classic Red: Formula X For Sephora Nail Polish In Curiosity
One swipe of this opaque nail polish left me very impressed and extra curious about the line. This particular shade, Curiosity, is a classic, bright red crème. The formula is a bit watery, but not at all streaky. It also has a wider brush, which dispenses a lot of rich color in just one stroke.
2. Goth: Formula X For Sephora Nail Polish In Genius
Just like Curiosity, the formula for this nail color is also a bit watery. The finish, however, is a nice, even, opaque black crème, although the Sephora website calls it a dark chocolate. Here, the wider brush comes in handy again for making the color even on the first coat.
3. Moody: Sally Hansen Complete Salon Manicure In Jungle Gem
This teal cream is super-striking and easy to work with. It has a lovely, thick consistency, and it comes with a wide brush, so it can coat your nails and even out color in two strokes.
4. Pink: Nails Inc. Nail Polish In Regents Park
This Barbie Pink shade was mostly opaque after the first coat. The formula was a bit watery, but thanks to the flat wide brush, it was easy to apply evenly.
5. Gray: Obsessive Compulsive Cosmetics Nail Polish In Dangerous
Gray nails are so unusual; they're instant conversation starters. This gray crème shade has a thick formula that provides opaque coverage in one coat. It also comes with a medium-sized brush.
6. Vampy: Essie Nail Lacquer In After School Boy Blazer
When a true black nail is too much for me, I like to go with this deep navy blue cream nail color. It has a long, thin brush and a thick formula that applies incredibly even.
7. Ladylike: Wet n Wild Megalast Nail Color In Undercover
This understated, rosy nude crème goes on mostly opaque (no one will notice it's just one coat unless they look very closely). It has a thick consistency and comes with a short wide brush.
Of course, adding a base coat, a second coat of color, and a top coat will be your best bet for longevity. But if you're in a rush, these nail colors will pack a punch and dry in no time.